How to build a Wireless Network between home and farm using tp-link products?
In occident countries, some families own a farm. On the farm wireless terminals like smartphones or IP cameras need internet access. To expand internet access from home to the farm far away, tp-link provides a solution to this scenario by using Pharos series products.
What are the basic needs of the wireless network between home and farm?
Normally, a wireless network between home and farm should meet the following needs:
Requirements for long distances data transmission and high signal strength.
Device should have protection from harsh outdoor environment, with lightning protection and waterproof design.
Device should support PoE power supply, flexible for outdoor deployment.
Convenient in maintenance; with tools for central management, configuration, and real-time monitoring.
What kind of solution can meet the needs of the wireless network between home and farm?
Here we provide a full solution including the network topology, product features and parameters.
Topology

P2P (Point-to-Point) Network Access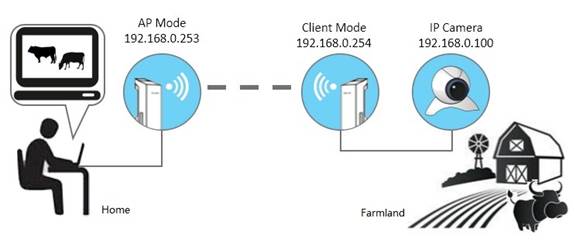 Remote Surveillance
What are the highlights of this solution?
This solution adopts TP-LINK Pharos CPE for long distances transmission deployment and Pharos Control Utility to centrally manage all devices.
CPE is designed with outdoor stabilized enclosure with IP (Ingress Protection) waterproof certification, supporting Lightning Protection and ESD Protection.
300Mbps 2.4GHz/5GHz wireless, working with dual-polarized directional MIMO antenna. Designed for long distances outdoor WLAN deployment.
Long Distances Data Transmission
CPE is specifically designed for long distances outdoor data transmission, and multiple product models are available for different distance requirement from 5km~20km+.
tp-link Pharos MAXtream TDMA (Time-Division-Multiple-Access) technology improves product performance in throughput, capacity and latency performance
Flexibility in Deployment
Passive PoE Adapter supports up to 60-meter-long (200 feet) Power over Ethernet deployment and allows the device to be reset remotely. Particular PoE Passthrough function allows ETH1 port to provide extra power supply for other devices.
PharOS web which is based on UI management system provides a powerful software function and multiple operation modes (AP, AP Client, Bridge, Repeater, AP Client Router and AP Router), as well as useful tools (spectrum analysis and transmit power adjustment). All device status such as system resource status, signal quality, transmit status, throughput, wireless client status, etc. can be monitored through PharOS in real-time.
Pharos Control is a software for central management and is used to control all tp-link CPE and WBS products. It has powerful management tools including device discovery, status monitoring, batch software update, scheduled mission, warning email, etc. Also, Pharos Control supports efficient management in large scale outdoor wireless deployment.
Which product should I choose to build the wireless network between home and farm?
Type

Model

Brief Introduction

Cost effective solution

CPE210

Works in 2.4GHz, with maximum speed of 300Mbps;

Built-in 9dBi dual polarization directional antenna; With coverage range up to 5km+;
Passive PoE power supply; Flexible for deployment; Centrally managed by Pharos Control Utility

CPE220

Works in 2.4GHz, with maximum speed of 300Mbps;

Built-in 12dBi dual polarization directional antenna; With coverage range up to 13km+;
Passive PoE power supply; Flexible for deployment;

Centrally managed by Pharos Control Utility

High performance solution

CPE510

Works in leisure 5G frequency, with less interference, maximum speed of 300Mbps;

Built-in 13dBi dual polarization directional antenna; With coverage range up to 15km+;
Passive PoE power supply; Flexible for deployment;

Centrally managed by Pharos Control Utility

CPE520

Works in leisure 5G frequency, with less interference, maximum speed of 300Mbps;

Built-in 16dBi dual polarization directional antenna; With coverage range up to 20km+;
Passive PoE power supply; Flexible for deployment;

Centrally managed by Pharos Control Utility