This thread has been locked for further replies. You can start a new thread to share your ideas or ask questions.
Minimum Rate Limit on EAP 110-outdoor and EAP Controller
2019-07-01 14:17:20
- last edited 2019-07-03 08:12:08
Hardware Version: V3
Firmware Version:
Hi!,
I need to configure the minimum bandwidth to ensure equitable use among the clients and that in turn can use the bandwidth that is not in use.
For example:
Total bandwidth: 50Mbps
Clients: 10
Bandwidth per client: Minimum: 5Mbps; Maximum: 50Mbps
This configuration can be done in old TP-Link models, but in the EAP only allows to configure the maximum bandwidth.
Old Firmware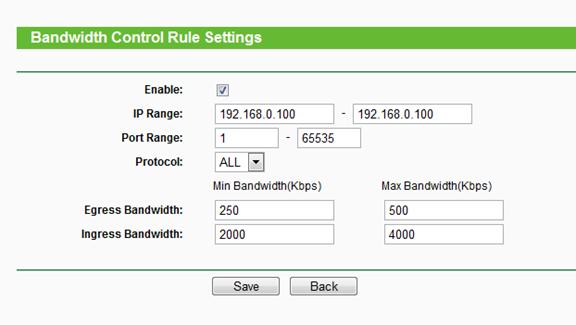 EAP Firmware With EAP Controller Software


What is the best way to do this? or How can I configure the minimum bandwidth in EAPs?
thanks!.