What should I do if TP-Link router cannot read files on my hard drive
You may have a number of files, such as: documents, photos or videos on your hard drive. If it happens that you cannot read some of these files when you access the connected hard drive please try the following: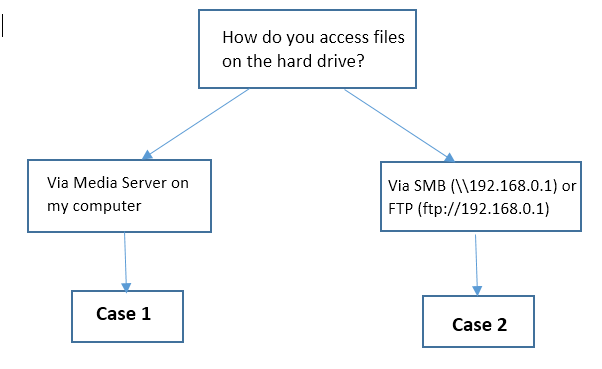 Case 1
1. Media Server can only recognize media files like music, pictures and video.
2. Try to limit or reduce the number of files on the drive.
3. Contact TP-Link support and let us know the results of the above two suggestions and model number of your hard drive.
Case 2
1. Capacity of your hard drive should not exceed what the router can handle.
TP-Link routers supports at most eight partitions in theory, if the hard drive has more than eight partitions, it will just load the first 8 partitions. (On the same drive, the total capacity of each partition cannot exceed 2TB for WR842N, WR1043N, WDR3500, WDR3600, WDR4300; If there are different hard drives connected via an USB hub, then router can only detect a maximum capacity of 8 * 2TB collectively. Similarly, our other models with USB function like the Archer series routers, the total capacity of each partition of usb drive cannot exceed 5TB).
2. The hard drive should not be encrypted with progras like Bitlocker, otherwise the router will not be able to detect the hard drive. Sometimes the router will scan the drive, but show that its free space is 0.
3. Verify if only certain file cannot be accessed. Tell us what kind of file it is, like MP4 or RMVB.
4. Contact TP-Link support and tell us the model number and capacity of your hard drive.