How to customize wireless settings using the tpPLC Utility (new logo)?
For a wireless powerline device, you can customize its wireless settings the the steps below.
Please note: If the Utility hasn't been installed yet, please refer to How to prepare for using the tpPLC Utility (new logo)?
1. Open the utility, move your mouse over a device, and click the

(Basic) icon.
Note: Login is required at your first access to basic settings of a powerline extender. The login username and password are admin/admin by default, they are same as those of the web management interface.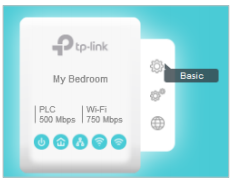 2. Go to the Wireless page, click 2.4GHz or 5GHz.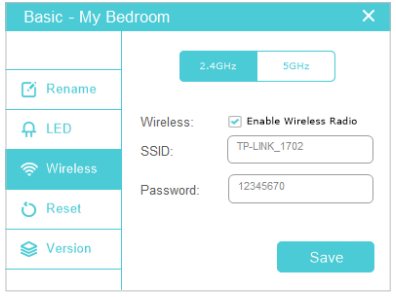 3. Keep the Enable Wireless Radio checkbox selected, enter a new SSID and password, and click Save.
Now you can wirelessly connect to the powerline extender using the new SSID and password you set.
Note: Some powerline extenders support Wi-Fi Move. If such devices are on a powerline network that does not use the default name (HomePlugAV), changes made to the wireless settings of one device will be synchronized to other devices.