New Arrival

Introducing Tapo SubG Family- Smart Sensors, Smart Switches, Smart Buttons and More on the Way
Introducing Tapo SubG Family- Smart Sensors, Smart Switches, Smart Buttons and More on the Way
2022-08-31 09:16:14
- last edited 2022-09-06 10:48:52



What is Sub-GHz technology? 




Sub-GHz also known as Sub-1 GHz is an innovative IoT solution to automate and control smart home devices through a lower than-1Ghz new wireless frequency characterized by Long Range, Less Susceptible to Interference and Extremely Low Power.
TP-Link Tapo brings a new Tapo Sub-G ecosystem with exciting new products smart sensors, smart buttons, 1 -way smart switches, wire-free cameras and more new products which are centrally managed by the Tapo smart hub.

Tapo Sub-G devices operates on the frequency of 868Mhz in Europe and 922Mhz in America.


Visit article here to learn more about TP-Link Sub-GHz Technology.



Tapo Sub-GHz Products: Tapo Smart Sensors, Tapo Smart Switches, Smart Buttons and More
Videos:
Take a first look at Tapo Sub-GHz product from videos here!
More set-up videos.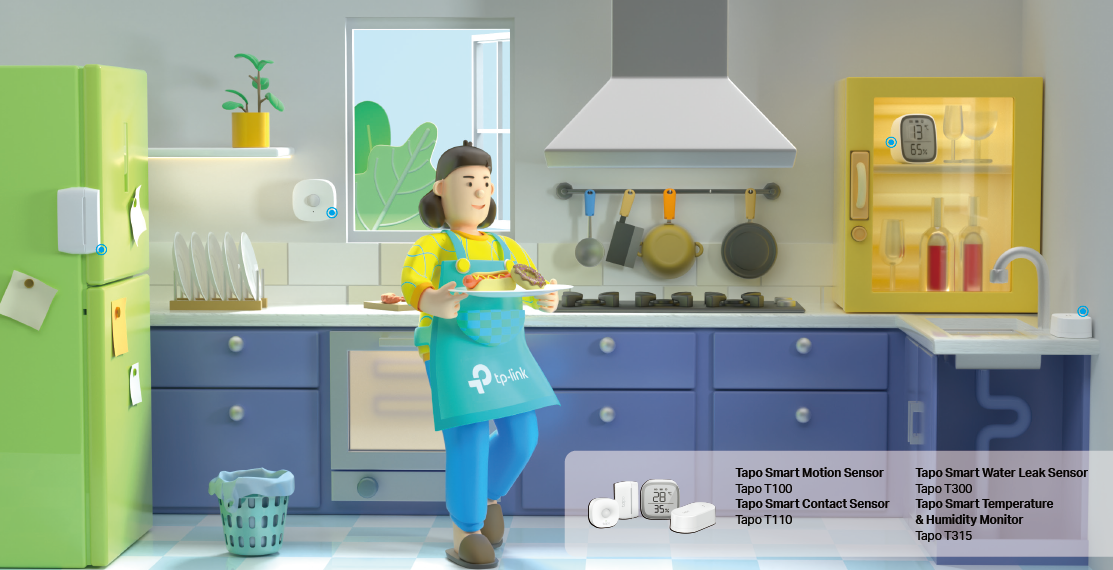 Tapo Smart IoT hub with Chime (Tapo H100)
Tapo Smart hub is the crucial IoT gateway in Sub-GHz networking that communicates between Wi-Fi network and connected sub-devices like sensors, switches or wire-free cameras for an immersive smart home experience. Learn more product details.
Note: Tapo Sub-G device requires working with the Tapo smart hub (Model Tapo H100 and the upcoming model Tapo H200)
Tapo Smart Motion Sensor (Tapo T100)
The sensor captures motion up to 7 meters away and through 120° view and sends you instant notifications. Learn more product details.
| | | |
| --- | --- | --- |
| | | |
Tapo Smart Contact Sensor (Tapo T110)
The sensor monitors the opening & closing of windows or doors in real-time. Or being placed on cabinets, fridge, or mailbox etc. No need to worry about having left the door open. Learn more product details.
Tapo Smart Button (Tapo S200B)
This is a physical button to control multiple Tapo smart devices or trigger the customized smart actions, it can also work as doorbell button when work with the chime ( Tapo smart hub). Leran more product details.
Tapo Smart Water Leak Sensor (Tapo T300)
Being placed below the sink, washing machine, water pipes or wherever there is possible water damage, it's ready to check whether there is a water leak in your home to give you peace of mind. Learn more product details.
Tapo Smart Switch (Tapo S210/ Tapo S220)
The battery-powered single-pole switch with the super-easy wiring helps you build home smart lighting easily. There will be 1 gang/2 gang versions for you to choose from. Learn more product details.
Frequently Asked Questions



Q1. When will the Tapo Sub-G devices (Tapo Smart Sensors /Smart Button / 1 -way Smart Switch / Wire-Free Cameras) 

 be released ? 







Tapo smart hub H100 / Tapo Motion Sensor T100 / Tapo Contact Sensor T110 will soon meet us in around 2022 Q4.  

  For other new products' info, please keep an eye on Tapo Smart website or TP-Link official website.



Q2. How Many Devices Can Connect to a Tapo Hub at the Same Time?




Visit FAQ here. 

Q3. How to Pair and Connect Tapo Sensors, Buttons and Other Devices to Tapo Hub?

Visit FAQ here.



Q4.  Can the Tapo smart hub work with motion sensors or accessories from a different manufacturer? 





No. Tapo smart hub is made for Tapo Sub G devices based on TP-Link private Sub-GHz protocol, sensors or accessories from a manufacturer can not be added Tapo smart hub in Tapo APP. 





Q5. Will the Tapo hub or Sub0G devices  work with TP-Link Tapo smart Wi-Fi products like Smart Lighting, Smart Plug, or Smart Camera?



Tapo Wi-Fi smart devices including Tapo Smart lighting, Smart Plug, and Smart camera are connected to Wi-Fi network directly and does not require a hub to work. 
While by Tapo Smart Action (Automation & Smart Action), you can automate the Tapo Wi-Fi smart devices using Tapo Sub-G devices and build much more abundant smart action scenarios (the FAQ will include more scenarios when the Sub-G models are released).
More Articles:

TP-Link Sub-GHz Technology Brings the New Tapo Lineup of Smart Hub, Sensors, Switches and More.
Tapo Camera Smart Action: Motion-Triggered Automation & Privacy Mode Shortcut 
What to do if you fail to enable the Tapo Skill in Alexa APP?

CES 2022 | TP-Link Showcases New Suite of Tapo Smart Products That Make Life Smarter